Resiliency Badging Program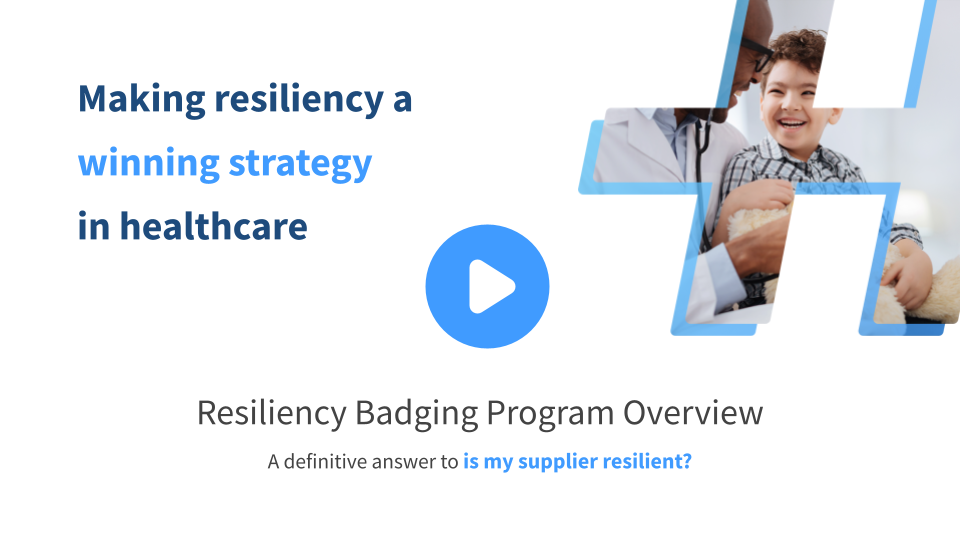 Primary Themes
1. Process & Performance
Badge will evaluate supplier process (operational and risk maturity) and performance (outcomes) across the Risk Domains as evidenced by:
Policies/procedures
KPI
Surveys
Interviews
2. Efficiency & Value
Efficiency: suppliers share evidence once for multiple strategic products / categories.  Providers gain confidence in those products.  Renewal every 3 years.
Value: each badge represents 4 weeks of diagnostics performed by a big 4 audit firm.  Badges are accompanied by an executive summary and select key data sets.
3. Security & Selection
Security: all assessment artifacts are managed securely (SOC 2 Type II) via an industry leading virtual data room (Box).
Selection: suppliers have autonomy in what artifacts to upload and with whom to share.  Suppliers set specific provisioning and file auto destruct dates.
4. Standards & Innovation
Standards: the badge will include a breadth of standard definitions and measures for healthcare supply chain management.
Innovation: suppliers earn [bronze / silver / gold / diamond] across various Risk Domains including callouts of best practice and innovation.
Nothing changes until we do
1. Problem
Healthcare supply chains

lack resiliency.

Providers lack visibility to supplier resiliency capabilities.

Providers cannot identify and select for resilient suppliers.

Suppliers lack incentive to invest in costly resiliency assets.

Investments in resiliency stay flat since selection focuses on price.
2. Solution
HIRC is ready

to address this problem.

We are building an evidenced based assessment with PwC.
The assessment will dive deep into 15 areas of resiliency.
Findings will be demonstrated by hard data and probing interviews
Suppliers who prove their capabilities earn a resiliency badge.
3. Roles
Unless providers adopt the badge, suppliers won't pursue it.

Without proof of resiliency, selection stays focused on price.
If resiliency isn't rewarded, investments in capacity/redundancy won't happen.
Patients will continue to be impacted by lower resiliency.
What is the resiliency badge?

A new initiative to develop a standard and assessment to assist providers in answering "is my supplier resilient?"  Overview

What will the assessment cover?

When will the assessment be available?

Existing supplier members are eligible for a pilot assessment Q1 2024.  Public release projected Q2 2024.

How will the assessment work?

Start

Supplier submits application to HIRC to begin the resiliency assessment process

NDA signed

Assessment

Required data loaded to secure platform 

PwC conducts interviews over 4 week period

PwC completes scoring rubric based upon HIRC standard

Executive summary provided

Outcome

HIRC makes determination if supplier has met the HIRC standard

If yes, badge awarded

If no, feedback given for supplier to make corrections

How much does the assessment cost?

Estimated fees:

Non-members: $100,000
Members: $75,000
Pilot: $25,000

*Suppliers can bundle multiple products / categories under one badge for efficiency

What is the rational for the fee structure?

PwC assessment cost (4 week engagement)
HIRC administrative cost

How often will the assessment be repeated to renew the badge?

What is the different between the Transparency and Resiliency badges?

Transparency Badge

Live
Opt-In
No cost
To qualify: meet BCM and Mapping Standard (details)

Resiliency Badge

In-development
Opt-In
Cost
To qualify: meet the new Resiliency Badge standard (in-development) and provide evidence

Why PwC?

PwC has aligned culture and capabilities.  HIRC and PwC have a signed engagement.  PwC will advise on badge program design and subcontract to HIRC for supplier assessments.

Why is the assessment at the product category level?

A majority of members agree that risk mitigation is often deployed in a stratified fashion.  For example, critical products and services are typically more protected (i.e. resilient) than non-critical.  Market dynamics, patient impact, economics, and risk all play a role.  Likewise, a supplier may be less likely to purse the badge for all categories, but rather for critical categories where differentiation is of additional value.

What if I don't pass the assessment?

Suppliers will have every opportunity to make corrections and resubmit.

Who can see the assessment results?

Assessment results will be owned by the supplier.

Executive summary may be shared with other parties only if permitted by the supplier.